Persian Love by Omar Khayyam
A revised adaptation of this great hedonist's stanzas. Available from Lulu.com for $10.55 or you can download the PFD version for $3.13.
Internet Love Fest, 1996
lulu.com—Paperback $10.55—Download $3.13
February 2006
Listen to Persian Love on YouTube:

The Right to Be Lazy by Paul Lafargue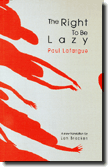 The sublime refusal-of-work text by Marx's son-in-law in a new, unexpurgated translation.
112 pages—paperback
Currently out of print.
The Real Report on the Last Chance to Save Capitalism in Italy by Gianfranco Sanguinetti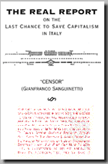 Neo-Machiavellian analysis of Italian politics first published anonymously and deceptively by the author of On Terrorism and the State. Includes the translator's "From the Egg to the Apples" chronology of the strategy of tension.
"Eloquently translated by Bracken." Alternative Press Review
Flatland, 1997
112 pages—paperback $9.95 plus P&H
Order from Amazon.com
Copyright Restrictions Apply